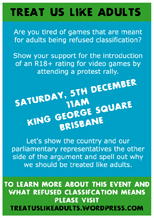 Brisbane, Australia is the site of a planned rally which hopes to show government authorities just how serious gamers Down Under are about receiving an R18+ videogame rating category.
The rally is planned for December 5th at 11:00 AM in King George Square. Treat Us Like Adults, a website/organization founded by game developer Ethan Watson, is behind the movement. Watson has a personal stake in the lack of an R18+ rating as he wants to "make games that, due to thematic content, would likely be refused classification in his home country."
Watson also plans to give a speech at the event.
Given that a previously planned, and subsequently postponed, demonstration scheduled for Australia earlier this year was going to feature protestors dressed in cosplay, Watson felt the need to note, "Just keep in mind that if you want this rally to be taken seriously by the public at large, you should probably leave your zombie gear for the Zombie Walk or Supanova."
Thanks Ryan!