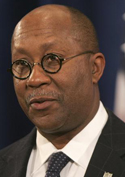 The Director of Knowledge Ecology International (KEI) fortuitously found himself on the same airplane with United States Trade Representative (USTR) Ron Kirk (pictured left) and used the opportunity to grill Kirk a bit about the lack of transparency surrounding the Anti-Counterfeiting Trade Agreement.
Kirk told James Love that the ACTA text would be made public "when it is finished," which Love indicated would be too late. Kirk said he was aware that the public was clamoring to see the text, but called the issue of transparency "about as complicated as it can get," and added that he didn't want people "walking away from the table," which he indicated would happen if the text was released.
In response to Love's insistence that it was untrue that previous intellectual property rights negotiations were normally kept secret, Kirk responded that ACTA was "different" and the topic being discussed were "more complex."
A pair of U.S. Senators recently called for ACTA text to be made public. The Electronic Freedom Foundation (EFF) has echoed that sentiment as well.