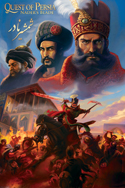 Shrugging off Western sanctions and a combination of cultural and government repression, videogame makers in Iran are still managing to churn out titles.
An article on TrueSlant takes a look at some of the titles coming out of the Persian country, billing them overall as "actually pretty damn good."
Given top billing is the Puya Arts-developed Quest of Persia series, which allows PC gamers to take part in events culled from the long and storied history of Iran. Quest of Persia currently consists of three titles.
The first in the series, called Quest of Persia: The End of Innocence is set in the early 1980s and revolves around the Iran–Iraq war. The first-person shooter also features driving and puzzle-solving elements. Released in 2005, The End of Innocence won numerous Iranian gaming awards.
The second installment in the series, dubbed Quest of Persia: Lotfali Khan Zand, is a third-person action-adventure game that tells the story of Zand, a king of Persia 200 years ago. This title was issued in 2008. A demo of this game is available here.
The latest game in the series, released just this year, is called Quest of Persia: Nader's Blade. A third-person sword fighting game, this title is also about a former king of Persia, Nader Shah Afshar, who ruled some 300 years ago.
Two more entries in the Quest of Persia series are planned.
Another title mentioned in the TrueSlant piece is called Special Operation 85: Hostage Rescue, and was developed by the Association of Islamic Unions of Students. The first-person shooter revolves around the story of two Iranian nuclear scientists kidnapped by U.S. military forces.
Iran's government has even gotten into the act, funding development of The Age of Heroes, a computer game based on Shahnameh, described as an epic work and literary masterpiece from the Persian poet Ferdowsi.