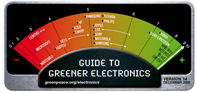 As part of its annual Guide to Greener Electronics, Greenpeace has issued detailed ratings on just how well electronic manufactures are doing in the race to become environmentally friendly.
Nokia rated first overall, with a 7.3 rating out of 10. Of the console manufactures, Sony fared the best, coming in with a 5.1 ranking.
Microsoft and Nintendo game in second to last and last respectively, with ratings of 2.4 and 1.4.
Nintendo actually showed improvement when compared to past years: the company earned a 0.0 score in 2007 and a 0.8 score in 2009.
Details from the report on Nintendo:
Nintendo scores most points on chemicals; it has put games consoles on the market that have PVC-free internal wiring. It has banned phthalates and is monitoring use of antimony and beryllium. Although it is endeavouring to eliminate the use of PVC, it has not set a timeline for its phase-out. It continues to score zero on all e-waste criteria.
The full report (PDF) can be viewed here.