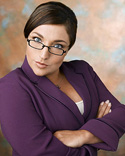 Jo Frost, best known stateside as the principal in the show Supernanny, has a new show airing in the UK and in its debut episode she attempted to tackle the issue of violent videogames.
The Guardian has a run down of the program (Jo Frost: Extreme Parental Guidance), in which Frost, with the assistance of Iowa State University's Dr. Douglas Gentile, conducted an experiment on 40 boys.
In one experiment, the boys were split in half, with 20 playing a football game for 20 minutes while the other 20 played a first-person shooter for the same amount of time. Following their game play session, all 40 boys watched violent news footage and had their heart rate monitored. Boys who played the FPS were found to have slower heart rates while watching the violent on-screen reports versus those who played the sports game, leading to a voice over that declared, "Shockingly, just twenty minutes of violent gameplay was enough to densensitise the boys."
Author Keith Stuart took the methodology to task, writing, "I'm no neuroscientist, but with the biological stress response recently engaged, surely it's no surprise that in the few minutes after violent gameplay, test subjects react differently to violent stimuli?"
Stuart continued:
So really, what does this all say about the long-term effects of exposure to violent videogames? I would suggest very, very little.
An additional experiment, in which Gentile knocked over a can of pencils in front of each boy individually, was supposed to measure empathy. Reportedly only 40.0 percent of the boys who played the FPS helped to pick up the pencils, versus 80.0 percent of those who played the football game.
The combination of the two tests, and the resulting conclusions, were a bit too much for Stuart to take:
Cognitive neuroscience is a complex field – it is perhaps not something to be prodded and poked at during a piece of realty TV voyeurism masquerading as documentary material.
He added:
…if just 20 minutes of exposure is enough to turn normal boys into desensitized monsters, our streets should be filled with violence. They're not.