February 12, 2010 -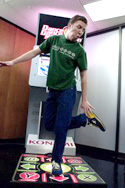 A former Canadian politician might have to do some creative dancing around following a probe into improper spending.

Former cabinet minister Len Goucher's spending habits between 2006 and 2009, when he was Minister of Immigration, have come under scrutiny following a Nova Scotia probe into government expenditures. It's claimed that Goucher spent $9,238 on electronic technology during the three-year span, including the purchase of a copy of Dance Dance Revolution Universe for the Xbox 360, reports the Canadian Press.

The inquiry has already resulted in the resignation of Nova Scotia House of Assembly member Richard Hurlburt, who reportedly used around $11,000 of public funds to purchase a generator and television.