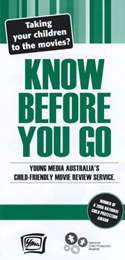 The talking head from the Council on Children and the Media, who claimed in an Australian TV report that videogames are to violence like cigarettes are to lung cancer, is just a sock puppet of South Australian Attorney General Michael Atkinson.
Dr. Wayne Warburton made the claim in a piece that aired on Australia's Ten network earlier this week. News.com reports that the Council on Children and Media, also known as Young Media Australia, has received tens of thousands of dollars in funding from Atkinson.
A spokesperson for Atkinson verified the link, which sees the group receive a grant annually in order to fund its Know Before You Go project, which is designed to provide information to parents on what films are suitable for children.
While Atkinson's office would not reveal the amount of money that changed hands, a Labor MP talking in parliament in 2006 put the figure at $33,000.
Council on Children and the Media CEO Barbara Biggins said that Atkinson has no influence on the group's view on videogames, "It's the only project that's funded by him and it's been funded for years now. And I think good on him for helping parents to understand the classification system better. That doesn't mean that we owe him anything in terms of what we do with campaigns."
Update: Wow, Jack Thompson actually made a great point in relation to this story. In between urging me to pay attention and calling Hal Halpin my puppet master, JT notes that Dr. Craig Anderson made a similar reference to cancer in a 2003 paper on violent games:
Myth 9. The effects of violent video games are trivially small.

Facts: Meta-analyses reveal that violent video game effect sizes are larger than the effect of second hand tobacco smoke on lung cancer, the effect of lead exposure to I.Q. scores in children, and calcium intake on bone mass. Furthermore, the fact that so many youths are exposed to such high levels of video game violence further increases the societal costs of this risk factor (Rosenthal, 1986).
Update 2: Texas A&M Texas A&M International University researcher, and nemesis of Dr. Anderson, Christopher Ferguson also wrote in to point us towards a research paper of his (PDF) that goes to great lengths to debunk Anderson's claims which JT referenced above.
Thanks to everyone who sent this story in!