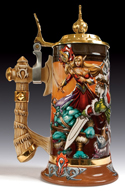 The earthquake that rocked Chile last weekend killed hundreds and affected the lives of thousands more. Zam has a story on how the survival of a game-related accessory contributed a little hope to one of the quake's survivors.
A 33-year old woman gamer named Karen, who lives in Santiago, was playing Guitar Hero: Metallica with friends when the quake hit. Many of her possessions were strewn about and destroyed as a result of the 8.8 magnitude earthquake, but the survival of one specific object, a World of Warcraft Blood of the Horde stein, gave her a reason to believe that the rest of her family in Chile had survived the quake intact.
She wrote an email to the Taverncraft, the stein's maker just days after the disaster, writing:
All i wanna say that you made a good product and little stein give me hope, and have family in Concepcion and the other region that are the most affected for the earthquake and when I see the stein without a scratch for me was like … yeah maybe my family made it too… that day I couldn't sleep… and only yesterday i have news all my family from the south are alive 🙂
Karen also told Zam that she and her friends have continued to play games as a way to get through the aftermath of the earthquake.