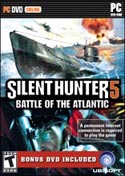 A German website (translated) is reporting that the Collector's Edition of Ubisoft's Silent Hunter 5 PC game has been recalled in Germany due to the appearance of "anticonstiutional symbols" in the game.
This would indicate that some type of Nazi symbol or imagery was left in the local edition of the game, which is verboten according to German laws. Edge received confirmation from Ubisoft that the game's standard edition was not recalled, only the special edition.
Activision suffered the same fate last year in Germany with its Wolfenstein game. It was forced was forced to recall the title because it featured a swastika.
This snafu is just the latest for Ubisoft, which has suffered from a negative reaction to its DRM technology and had its DRM servers attacked by hackers twice in the past week.
|Via BluesNews|