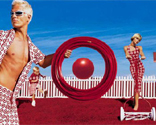 The National Retail Federation this week urged the U.S. House of Representatives to approve legislation that would create a new crime unit at the Department of Justice to investigate and prosecute organized retail crime. NRF Senior Vice President for Government Relations Steve Pfister sent a letter to members of the House, urging them to vote on H.R. 5932 (the "Organized Retail Theft Investigation and Prosecution Act of 2010").
The bill was introduced this summer by Representative Bobby Scott (D-Va.), chairperson of the House Judiciary Committee's Subcommittee on Crime, Terrorism and Homeland Security. The bill is co-sponsored by Judiciary Chairman John Conyers (D-Mich.), Ranking Member Lamar Smith (R-Texas), and committee member Bob Goodlatte (R-Va.).
The bill does a number of things. The first thing it does is defines organized retail theft as "obtaining retail merchandise by illegal means for the purpose of reselling or otherwise placing such merchandise back into the stream of commerce, aiding or abetting the commission of such acts, or conspiring to commit such acts."
As we mentioned earlier, it would create a new division in the Department of Justice called the Organized Retail Theft Investigation and Prosecution Unit.
It would require the U.S. Attorney General to create and submit a report to the Judiciary Committee with recommendations on how retailers, online businesses, and law enforcement agencies can prevent and fight against organized retail crime. The bill would also authorize $5 million a year for fiscal years 2011 – 2015 to fund the new program.
Citing figures from FBI retail loss prevention experts, NRF says that retailers lose between $15 and $30 billion a year to organized retail crime rings. They also say that 89 percent of retailers were victims of organized retail crime in the past year – according to an annual NRF survey released earlier this year.
The NRF says that organized retail crime rings tend to target every day, high-demand consumer products that are "easy to steal" such as baby formula, razor blades, batteries, analgesics, cosmetics and gift cards. Why? Probably because these items are easily resold to the general public and in bulk to other criminals. More expensive products such as DVDs, CDs, video games, designer clothing and electronics are also targeted but obviously a bit harder to steal. Most of the aforementioned items are resold in pawn shops, flea markets, swap meets and on the Internet, says the NRF.