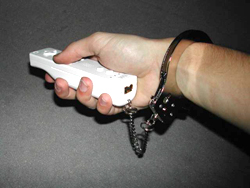 Crime doesn't pay, or so the phrase goes, but it appears that law enforcement doesn't pay either, as a Honolulu police officer has been charged with shoplifting a videogame.
John F. Rapozo, a member of the HPD's Narcotics-Vice Division was hit with a fourth-degree theft charge for allegedly pocketing a game during a September 10th trip to a Pearl City Wal-Mart store. The Star Advertiser reports that this is the third time an HPD officer has been arrested this month, while an additional five members of the force are being investigated for "major crimes," and another 17 cases involving officers are currently in the prosecutor's office.
All this activity led an exasperated HPD Chief Louis Kealoha to state, "The department holds its officers to a higher standard than the general public, and every allegation or complaint is fully investigated."
No word was provided as to what game Rapozo allegedly lifted. Maybe he was a scorned APB game owner who felt he had a free game coming to him?
Image via QJ.net