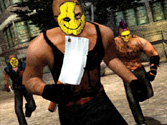 The Washington Post took a break from talking about the mid-term elections to select the 15 most Offensive Video Games Ever Made. Ever made? Well if you consider rape, ethnic cleansing, recreations of horrific crimes, pedophilia, terrorism, and gruesome brutality offensive than this list has something for you.
So what are these horribly offensive games?
WP lists Modern Warfare 2, Bonetown, Rapelay, V-Tech Rampage, Custer's Revenge (you can't beat the classics..), Resistance: Ethnic Cleansing, Battle Raper, JFK Reloaded, Operation Pedopriest, The Torture Game 2, Muslim Massacre: The Game of Modern Religious Genocide, Manhunt 2, Virtual Jihadi, and Raid Gaza.
Enjoy the horror show here.