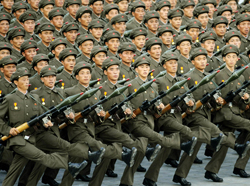 Last month we did a story regarding a unit of Rupert Murdoch's News Corp. distributing North-Korean developed mobile games, which were sourced through the Nosotek Joint Venture Company. A new CNN report offers a little bit more insight into doing business in a country run by "Supreme Leader" Kim Jong-il.
Nosotek is headed by German business man Volker Eloesser and its specialty is utilizing North Korean talent in order to create software, games and animation for foreign clients. Eloesser started Nosotek about three years ago, as he searched for something more "interesting and challenging." He stated that it was "fairly easy" to find English-speaking workers and claimed that labor costs in North Korea are about half of what similar labor would cost in China.
Eloesser has taken some North Korean employees to Germany for training, but that has become more difficult of late, as visa applications are now routinely being denied. Eloesser said, "The ambassador explained to me, if they all come to Germany to learn from us, they'll all learn to make nuclear bombs."
When asked how he felt about helping an "oppressive regime," Eloesser answered, "What we are doing is not against the sanctions."
He continued:
The people who've never been here are criticizing me most. What I say is pretty simple: What do we need here? People getting to know each other: We need Koreans knowing the foreigners. And we need the foreigners knowing the Koreans.
CNN added that it checked, and IT sourcing of cartoon animation and software games does not violate any UN sanctions.
For more information on the Hermit Kingdom, check out VBS.TV's excellent three-part Vice Guide to North Korea.

Image via the Big Picture/AP