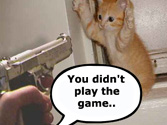 I imagine that, after spending four to five years of your life creating a game, to see it (from that perspective) being shat upon by critics is a hard pill to swallow. It is even more difficult when you believe that your creation is good. It is at these moments that the urge to go on defense is natural, but how far is going too far?
That is the subject of an article by Ben Kuchera over at Ars Technica. The game in question is an Xbox Live Arcade title called Hydrophobia and the zealous defenders are UK-based Dark Energy Digital. At first, it seemed like the game was going to sail through the review circuit relatively unscathed. Official Xbox Magazine and IGN gave it decent scores, which the company's PR department happily plastered all over the game's official web site. Some other smaller sites gave it some decent scores as well. All seemed right with the world.
Then Edge Magazine came along. Edge isn't not known for wearing the velvet gloves when it reviews a game, and it's Hydrophobia review was pretty brutal. An excerpt from said review:
"Protagonist Kate Wilson is a forgettable nonentity as she whines and wails her way through every linear section. The maps themselves are multi-tiered chores that require little initiative to navigate, the storytellers all too eager to intervene with a directional soundbite or, worse, a piece of the story that involves hackneyed terrorists and a perpetually raving, arrogant Scottish mentor."
Reading the review made Dark Energy Digital's PR very angry, apparently. While we do not know what kind of interactions the company had with Edge Magazine, we do know that Dark Energy Digital was not satisfied with the results, so they talked to VG247. Some quotes from the Ars article:
Deborah Jones is the creative director of Dark Energy Digital, the developer of Hydrophobia. "Clearly, they haven't played the game," she told VG247. "We're extremely frustrated by the review. We've got reviews that are absolutely outstanding that say they love the product… If they don't do the review properly, they shouldn't do a review at all."

"We believe that the game hasn't even been played," joint creative director Peter Jones repeated.
Edge later responded, saying that the (unnamed) reviewer played the game to its finish and played the bonus content.There are a number of other questionable things that Jones and friends did to other journalists, but we will leave the telling of those tales to the Ars Technica article.
The point is that you can go too far in defending your game. Most journalists expect some pushback when they write a negative review. There is certainly nothing wrong with PR giving journalists a piece of their mind either, but leveling accusations like "you didn't play the game" or "you didn't play the game right" are very serious and more damaging to the company's reputation than to a publication. The moral of the story is that you cannot control the message – especially when that message is on the Internet.
[Full disclosure: I have not played Hydrophobia and cast no aspersions on the game.]