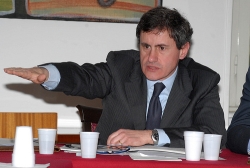 Just how boring are Rome town council meetings? Politicians participating in the gatherings have been given the okay to play videogames during the meetings to assist in combating the monotony.
Even worse (better?) perhaps, the Metro insinuates that officials were given laptops pre-loaded with computer games. Rome's Mayor Giannai Alemanno (pictured) added, "Each councillor can amuse himself and defeat stress during our long, hard meetings."
The Metro compares the Italian initiative to a "fact-finding" mission—to local strip clubs—suggested by members of the UK's Cornwall Council. Council members wanted to see what kind of "impact" the clubs had on local economies and neighborhoods.