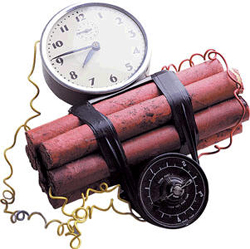 4 chan's "Operation Payback," like other internet activist operations may have gone too far – assuming they take credit for it.. TorrentFreak reports that the office of the law firm Dunlap, Grubb & Weaver was evacuated by the police after an anonymous source emailed a bomb threat. The law firm has sued thousands of BitTorrent users in the United States for allegedly downloading or sharing the film "The Hurt Locker."
A few days ago 4chan users called for a concentrated DDoS attack on the law firm's web site as part of "Operation Payback." In short order the web site went down along with its email server. Several hours later the site was back up. Thursday afternoon an email was sent to the law firm, claiming that a bomb was in the building. Local police, firemen, and dogs were sent into the building to sniff out the alleged bomb. Naturally there was no bomb.
Earlier in the week TorrentFreak spoke to someone claiming to be connected to the "Operation Payback" attacks. They asked the unnamed source why they were targeting Dunlap, Grubb & Weaver target. "They're all anti-piracy lawyers," he or she said. "Think of Dunlap, Grubb & Weaver as of ACS:Law, but in the USA."
While "Operation Payback" may have targeted the firm, it is unclear who sent the bomb threat. Anonymous / 4 chan certainly have not claimed responsibility for it.
Source: TorrentFreak