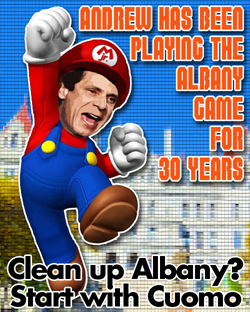 Putting aside garbage-scented political flyers, at least for the time being, New York Republican Gubernatorial candidate Carl Paladino has invoked a world-famous videogame character for his latest attack on Democratic opponent Andrew Cuomo.
The latest flyer features Cuomo's face on a caricature of Mario under the headline "Andrew Has Been Playing the Albany Game for 30 Years."
Another recent flyer pictured Cuomo in the shower, with the text "Clean up Albany? Start with Cuomo."
Just last month Paladino spokesman Mike Caputo promised, "We're going to continue beating on Andrew Cuomo until he comes out and answers questions and agrees to a series of debates."
For more on Paladino be sure to check out this Gawker tag, which assembles all of the site's gleeful coverage of the candidate's missteps to-date.
Our personal favorite from Paladino's flyer collection is a selection from early on in the campaign and features Steve Levy, Paladino's opponent for the Republican nomination, and Ed Cox, Chairman of the New York State Republican Committee.