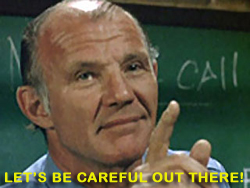 Using data provided by the National Electronic Injury Surveillance System, researchers recently presented an overview of videogame-related injuries at the American Academy of Pediatrics (AAP) National Conference and Exhibition in San Francisco.
Between January 1, 2004 and January 1, 2009, there were a total of 696 game-related injuries in the U.S., of which 604 were suffered from "traditional games," while 92 were attributed to "newer interactive games" that require a greater investment of interactivity, like Nintendo's Wii. Of the 92 injuries caused by "newer" technology, 49 injured parties were male and 43 female.
The mean age of the injured was 16.5 years old. Those injured were more likely to hurt their shoulder, ankle or foot. Bystander injuries were also "significantly" more likely to occur when playing games using the "newer" interactive technology.
Patrick O'Toole, MD, lead author of the study, added, "Younger children under the age of 10 should be supervised while video games are being played to prevent bystander injuries, which are more common with interactive games."
Via AAP PR, Thanks Adam!