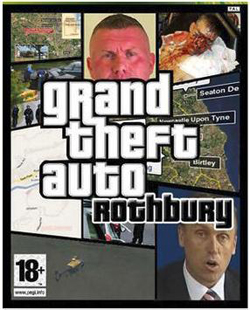 Earlier this summer the UK's Daily Star fabricated a story claiming that the next entry in Rockstar's Grand Theft Auto series would be based on the July 2010 crime spree committed by ex-con Raoul Moat (pictured)across the NorthEast section of the UK and that the game would be named GTA Rothbury.
While the paper later apologized for the incident, and the piece's author insulted gamers, calling them "grown (?!?) men who sit around all day playing computer games with one another," the paper has been ordered to pay undisclosed damages to Rockstar and Take Two Interactive. According to the Guardian, Rockstar has accepted "substantial" libel damages as awarded by a High Court.
Rockstar's Solicitor, Melanie Hart, stated, "The defendant now accepts that Rockstar Games never had any intention to create such a video game at any time. The story was entirely false."
The Daily Mail's parent company, Express Newspapers, was also ordered to pay Rockstar's legal fees.
An Express Newspapers spokesperson said that the company "accepted that the allegations were untrue and apologised for the upset and damage caused."
MCVUK still has a screenshot of the original Daily Star article available on its website.