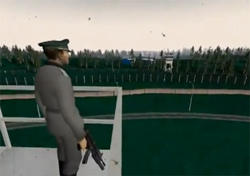 1378 (km), the game based on the "death strip" separating East and West Berlin during the Cold War has seen its release delayed until December.
The game's developer, a student at the Karlsruhe University of Arts and Design named Jens Stober, took to his blog to announce the postponement, which he said was partly due to criticism of the game. Comments about the title, such as the Director of the Berlin War Memorial stating "The seriousness of what once went on at the border can't be portrayed in this way," led Stober to claim that "an objective discussion of the game is presently impossible."
Stober also offered a rather impassioned defense of games, specifically computer games, writing:
A large part of the criticism is a consequence of my chosen medium, the computer game. Computer games as a medium are often quick to be judged without being more closely examined, as was also the case with my art project. It was designed to enable a younger generation to access information on recent German history using a medium familiar to them.
He continued, and defended games as an artistic medium:
In this computer game – which would not be the case in, for example, a documentary film – I personally have the control over my behavior and my reactions, which take place in real time and in changing situations. The game 1378(km) does not force someone playing the "border soldiers" to shoot the "refugees."

Players are left with the freedom of choice. You are only able to win 1378(km) when you do not shoot. The rules of the game are inspired by the situation at the former Inner German Border. Border camps, death strips, and orders to shoot are what make the game brutal.
The developer offered that he "deeply regretted" offending any families of victims who died trying to cross the border.
1378 (km), which Stober built using a modified version of Half-Life 2: Deathmatch, will be released in beta version for players 18 years of age and older. A final version of the game, it's hoped, will be released alongside a "public discussion with dignified guests at the Karlsruhe University for Arts and Design."