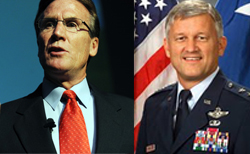 While there's no doubt Electronic Arts totally succumbed to pressure when it removed the Taliban (in name only) from the upcoming Medal of Honor videogame, a letter written to the Colorado Retail Council (CRC) by a former Congressman and ex-Air Force General shows the type of opponents EA was assembling as media hysteria about the game spread.
In a letter dated September 30, just a day before EA announced its change to Medal of Honor, former Colorado Republican Congressman Scott McInnis and Bentley Rayburn (pictured left and right respectively), a retired U.S. Air Force General, affixed their names to a letter urging the CRC to denounce the Medal of Honor game.
As seen on the Colorado Springs Independent website, the pair argued their case to CRC President Christopher Howes, calling the ability to play as the Taliban a "complete disgrace" and adding that "out of respect to our troops no retailer in Colorado should sell it."
The duo continued:
Officials of Electronic Arts Corporation should also rethink selling this video game. In their quest for profit, can these officials look into the eyes of those who have lost loved ones serving our country in Afghanistan with a clear conscious? Where is the respect for our soldiers?

The Colorado Retailers Association should come out with a strong public statement denouncing this product and urging all member retail outlets to refuse to carry such an offensive and vulgar product.
Howes said that he and his organization had the "highest respect for the men and women fighting to defend our country," but added that telling the members of his organization what to sell or not sell was, he believed, against anti-trust laws.
The CRC President continued, "In fact, in my 15 year government affairs career representing clients in Colorado I've never heard of a trade association telling its members what they should sell to customers."