October 5, 2010 -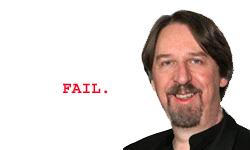 Tim Langdell will have to find a new target, according to an IndustryGamers report. The court battle between Electronic Arts and Langdell's Edge Games over the use of the term "Edge" has been tossed out by the U.S. District Court for the Northern District of California, San Jose Division.
Edge Games has filed several lawsuits against games and companies that use the term "Edge." The lawsuit against EA revolved around what Edge termed "willful infringement and unfair competition" in regards to EA's Mirror's Edge franchise. The suit sought a court injunction against EA's "continued infringement" and included claims for treble damages.
The court sided with EA, and strongly admonished Langdell, according to Industry Gamers: The presiding judge said that "Langdell made fraudulent statements to the US Patent and Trademark Office and strongly believes that Langdell is 'suspect,' and has been 'trolling' the game industry for licensing opportunities. His actions could possibly warrant 'criminal penalties.'"
An unnamed EA spokesperson told IndustryGamers that it is pleased with the decision and that the company hopes that this decision will serve as a milestone against "nuisance litigation."
Thanks Andrew Eisen. Source: IndustryGamers