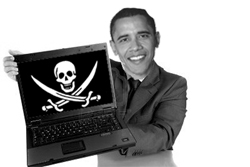 The Commerce Department's Internet Policy Task Force is opening up the topic of copyright protection and piracy prevention to the general public, The Hill reports.
The Task Force issued a "Notice of Inquiry" today seeking input from stakeholders, Internet services providers, and consumers on how to protect copyright holders while maintaining the free flow of information online. The Task Force will collect comments from all sides and create a report to be submitted to the Obama administration. Naturally, there is no mention of ACTA, but hopefully citizens for and against overly aggressive copyright rules will speak up while they can.
Interested parties are asked to file comments by e-mail.
Source: The Hill