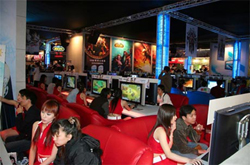 Chinese gamers are apparently getting sick of the thousands of me-too MMORPGs on the market and are shifting towards more casual online offerings. That is what research firm and Chinese market analyst Niko Partners says, anyway. A new report from the firm says that gamers in the region are shifting away from hardcore MMOs in favor of casual games. This shift is driven by the monotony of the games on offer in China.
"We believe that the Chinese market has taken up SNS (social networking site) gaming in earnest, and that the hard-core gamers have shifted their preferences to include these games alongside the casual gamers who naturally appreciate them, " Niko Partners' Lisa Cosmas Hanson told GamesIndustry.biz.
"The hardcore gamers are growing weary of the monotony of themes in the Chinese MMORPGs, and they want to extend their social interactions to games that attract a more diverse user base. People want to play games that enable them to have something to bond over when chatting with schoolmates or colleagues at the water cooler. "
Niko Partners added that the casual games market will account for 30 percent of all online gaming revenues in China by 2014 .
Source: GameIndustry.biz