September 29, 2010 -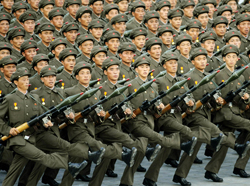 Last month we did a story regarding a unit of Rupert Murdoch's News Corp. distributing North-Korean developed mobile games, which were sourced through the Nosotek Joint Venture Company. A new CNN report offers a little bit more insight into doing business in a country run by "Supreme Leader" Kim Jong-il.

Nosotek is headed by German business man Volker Eloesser and its specialty is utilizing North Korean talent in order to create software, games and animation for foreign clients. Eloesser started Nosotek about three years ago, as he searched for something more "interesting and challenging." He stated that it was "fairly easy" to find English-speaking workers and claimed that labor costs in North Korea are about half of what similar labor would cost in China.